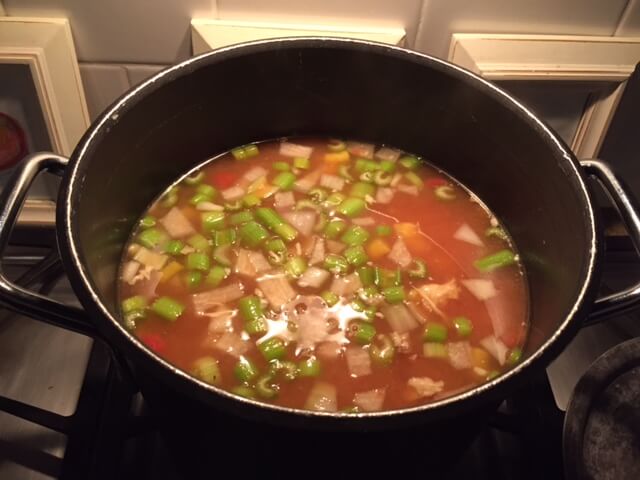 Alas, my favorite time of year has arrived:  bone-chilling winter is upon us, time for me to get yummy soups going on my stove.  This is a particularly favorite recipe that I keep coming back to, so I wanted to share it with you – It takes only about 20 minutes to prepare and then you are feasting (hopefully by a cozy fire) on heart-and-soul-warming goodness.  Enjoy!
Southwestern Chicken & Rice Soup Low-Fat and My Way
Ingredients:
48 ounces fat free chicken broth
1/3 cup onions, chopped
1/3 cup celery, chopped
1/2 cup green bell peppers, chopped
1/2 cup long-grain rice, uncooked
1/4 teaspoon cumin
12 ounces boneless skinless chicken breasts, chopped (*I purchase a baked chicken and de-skin and shred)
1 cup tomatoes, chopped
1/2 cup whole kernel corn, frozen
1 (4 1/2 ounce) can green chilies, chopped, undrained
salt and pepper to taste
Directions
Bring broth to a boil in a large saucepan.  Stir in rice and cumin.
Return to a boil.
Cover, reduce heat, and simmer 15 minutes until rice is tender.
Stir in chicken and next 3 ingredients into rice mixture.
Bring to a boil.
Remove mixture from heat, add salt.
Serve with fresh cornbread and green salad.
Enjoy!