It's that time of year again where I struggle with the accurate spelling of "mantel."  Or is it "mantle"?  Like "Capitol" and "capital," this distinction in spelling gnaws at me (in a good way, I suppose).  In any case, as you can see, my mantel is doing just fine.  And so am I .  Thanks to check-ins from many unexpected friends and caring neighbors.  And of course, my constant therapy buddies, Pudgey and Vanilla.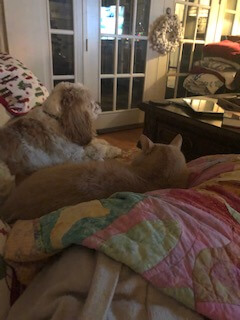 There is something about the month of December that always leaves me feeling warm, loved and grateful.  It's not just the ordinary pre-Holiday buzzing around that sustains me.  In fact, it is the opposite.  I like the quiet, reflective times of December and I defiantly make them a priority.  I started reading about "minimalism" a few years ago (check out Joshua Becker's becomingminimalist.com and the excellent writings and Netflix documentary based on the thinking of Joshua Fields Millburn & Ryan Nicodemus, theminimalists.com).
More than anything, studying the principles of minimalism has offered space and support in my thoughts and lifestyle these past few years to begin a transformation that has led to the greatest clarity and personal satisfaction of my life.  I don't need more "stuff," I need less clutter.  I don't need more "fake friends," I need a small circle of amazing friends who check-in with me.
Quite unexpectedly, I left a great job this month and immediately became completely helpless  to a very painful sciatic joint "situation."  I've been knocked off my horse and there's very little I can do about it.  Yet I feel joyful.  I have abundance.  I see goodness.  I am hopeful.  And my small circle of amazing "check-in" friends and family are exactly where I want and need them to be.  Lovingly offering kindness and ready to ease the pain of loneliness or regret or whatever my ailment of the moment happens to be.
For whatever totally undeserved reason, I have received the gift of loyal friendship and support of friends I was close to twenty and thirty years ago back in my life recently.  Old friends are the most comforting treasure in the world.  One glance or utterance can unfold memories, laughter and complete understanding between old friends that gives meaning and purpose to my humanity in the here and now.  Just yesterday, I reconnected with Shelley, a pal from my twenty-something, unmarried, professional days over lunch.  We are both married, in our fifties now and navigating raising teenagers, nurturing marriages of twenty-plus years, and learning to laugh at our common mid-life physical and emotional challenges.  She texted me first thing this morning:
"I'm so very proud and impressed with all your personal accomplishments!  You don't give yourself enough GRACE!"
My dears, when a friend who knows you inside and out says these beautiful words to you, I don't care how or when or in what format, you are LUCKY.  You are enough.  You make a difference.  And you are certainly loved and appreciated.
Like the beautiful fresh greenery another dear friend recently draped across my mantle (or is it mantel? More amazingly, she did it without duct tape!), life is full of simple joys that can be overlooked if you don't intentionally slow down.  Check-in with your soul on a regular basis and feed it with acceptance, inspiration, a cup of tea, a conversation with an old friend, or a friendly chat with the neighbor walking their dog down the street.  These are the gifts I am grateful for this December, regardless of what packages happen to end up under my tree.
I hope that 2019 brings you lots of positive "check-ins" from loving sources you have encountered and nurtured throughout your life.  A check-in doesn't have to be lavish – just a few simple words to express what you're feeling in the moment are all that another person needs to feel supported and ready for a new day.
I dedicate this to all my check-in friends of 2018 and look forward to growing that number in the coming year: Shelley, Pam, Mary, Melissa, Vicki, Vickie, Victoria, Jennifer, Jeanne, Sherry, Stevie, Johanna, Christine, Susanna, Malin, Kit, Laurie, Kelly, Carol, Lincoln, Rob, Mark, Alex, Julie, Susan, Erin, Jenny, Carmen, Alejandre, Ann, Linda, JoEllen, Sarah, Mike, Gwyneth, Bill, Caryl, Sheila, Isa and Mario.
Merry Christmas, friends.