I've been feeling "droopy" (a "Miss Rhetta-ism" – my Momma's signature speaking style) lately.  The heat and humidity of summer persist, fall schedules and allergies are pressing down on me, and I have a serious case of the "I don't Wanna's"!  Weighing heavily on my mind is the fact that it is my beautiful daughter's SENIOR year of High School.  I am overloaded with scheduling ACT tests and tutors, college visits and organizing volunteers and resources for all her Drill Team fundraisers this year.  This girl needs some delicious, cream-based sauce and crusty bread for dipping!!!!
That's when I go to the kitchen for comfort.  Sometimes, it is a tried and true recipe that comforts me, other times, it is a new one I've had my eye on that I will try.  Of course, leave it to me  to take a Cooking Light recipe and make it unhealthy and delicious!   I am ready for crisp weather and my French Girl dipping sauces made with scrapings of lovely browned bits from my saucepan.  I am at least 1/8 French (Grandmother's maiden name is De Lisle, my legal Middle name), so craving delicious sauces is natural for me!
Here is the FREAKING OUT OF THIS WORLD pan chicken recipe I modified from the January/February 2016 Cooking Light magazine for my family last night – prepare to drool.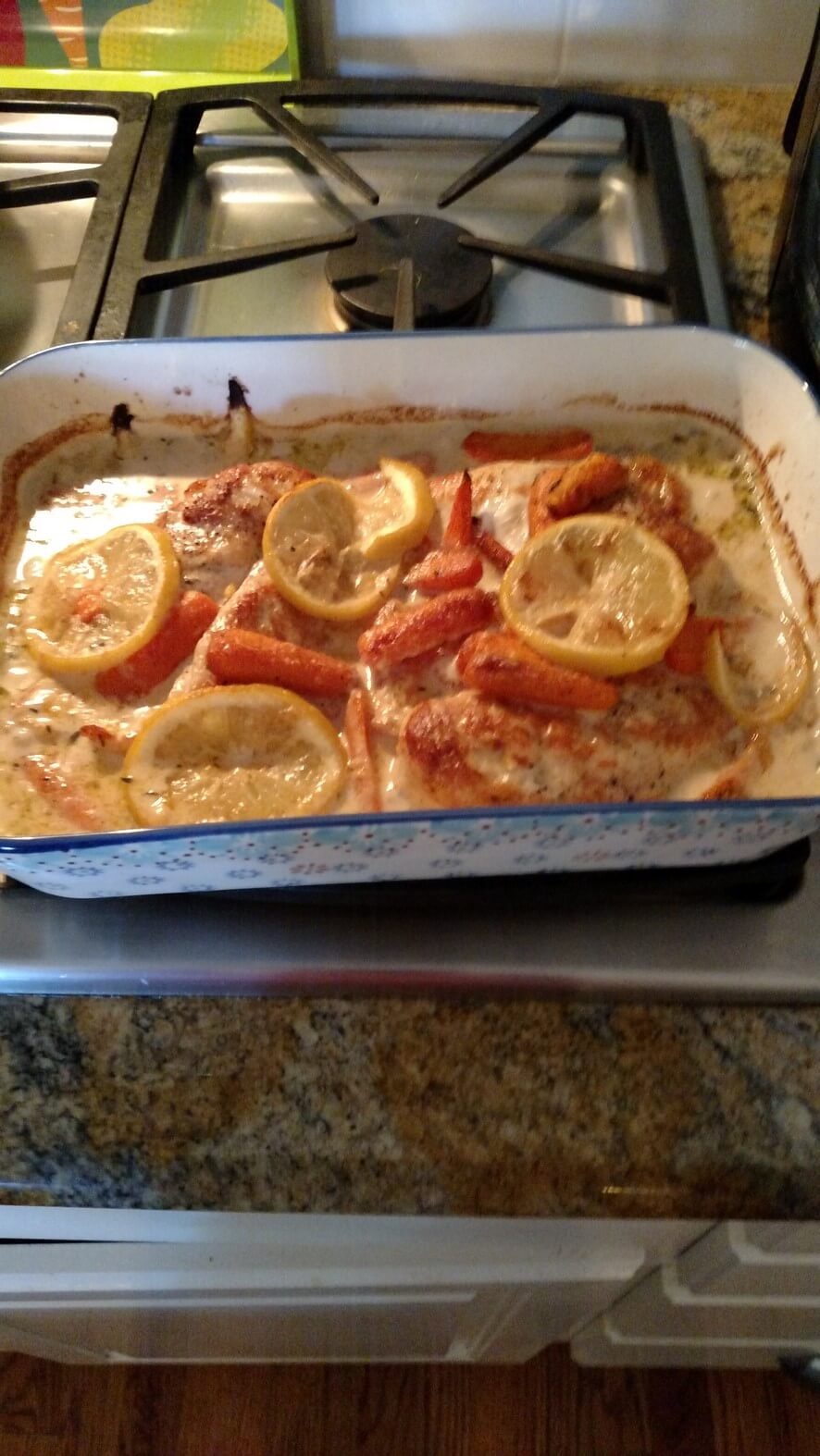 Skillet Chicken with Roasted Potatoes and Carrots
Servings: 4
Difficulty: easy
Skillet Chicken with Roasted Potatoes and Carrots 
(Cooking Light Magazine, January/February 2016)
Ingredients:
1 tablespoon olive oil
4 (6-ounce) skinless, boneless chicken breast halves
3/4 teaspoon kosher salt, divided
1/2 teaspoon freshly ground black pepper, divided
8 ounces baby carrots
8 ounces small, red potatoes, halved (*I did not include this in my recipe)
1 tablespoon chopped fresh thyme (*How I wish I had an herb garden!  I used dried).
8 thin lemon slices, seeds removed
1 1/2 cups whole milk, divided (*I went for it and substituted one pint of heavy cream)
1 1/2 tablespoons all-purpose flour
1 1/2 teaspoons grated lemon rind
3/4 cup unsalted chicken stock (*all I had on hand was vergetable stock)
1/3  cup fresh flat-leaf parsley (*I never have this so I don't use it)
Directions:
 Preheat oven to 425 degrees;
Heat a large skillet over medium-high heat.  Add oil, swirl to coat.  Sprinkle chicken with 1/4 teaspoon salt and 1/4 teaspoon pepper.  Add chicken to pan; cook 5 minutes or until golden brown (*I always cook a few minutes longer because I am scared to death of food poisoning); Turn and cook 2 minutes.  Remove chicken from pan.  Place carrots and potatoes (*I just used carrots), cut side down, in pan; sprinkle with thyme.  Place pan in oven; bake at 425 degrees for 10 minutes.  Return chicken to pan; top with lemon slices.  Bake at 425 degrees for 10 12 minutes.  Remove pan from oven.  Place chicken and vegetables on a plate.
Combine 1/2 cup milk (*remember heavy cream is WAY yummier – lol!), flour, and the rind in a bowl.  Return pan to medium-high heat (do not wipe out pan).  Add flour mixture, remaining 1 cup milk, and stock to pan, scraping pan to loosen browned bits (this is where your heavenly taste will come from); cook 3 minutes.  Stir in remaining 1/2 teaspoon salt and 1/4 teaspoon pepper.  Add chicken and vegetables to pan.  Sprinkle with parsley.
Razzle Dazzle Your Diners With This Simple French-Inspired Dish
Bon Appetit!