I am 12 years younger than my oldest sibling, my big brother, Jim. He was born in 1954 and I was born in 1966, so we are literally a generation apart. He is one of the last hippies and I am one of the first Gen Xers. When I was 4, he went away to the Seminary for boarding school, so I don't remember living with him all too well. My childhood was marked by the larger-than-life, highly anticipated homecoming visits of my big brother. He drove a brown 1974 Ford LTD and wore blue jean cutoff shorts. He played guitar and sang songs like "A Horse With No Name" by America. He was cool and everybody liked him. He could blow smoke rings and even wrote a song of the same name. When he was home, my Mom baked custard pie and cherry pie and seemed more content because her "Jimmy Dick" was nearby. He made my sister laugh so hard at the supper table milk would run through her nose and she'd get whacked on the top of the head by my Dad's wedding ring.
Even though I had 4 beautiful and extremely popular older sisters, I most wanted to be like my big brother because he just emanated "cool," kind of like Snoopy.

One Easter, Mom had us all lined up in front of the house dressed in our matching outfits so she could make a "home movie" to mark the day. 15-year-old Jim decided to walk like a hunchback so 3-year-old me followed suit dragging my bunny and basket in tow and wearing a bonnet, too. He elevated all the everyday, mundane things to the level of super cosmic. Every evening when he was home, Dad would watch "Batman" and "Get Smart" with him on tv while Mom made supper and the girls set the table. His laughter and quick wit filled the house with energy that lightened the pervasive "girl drama." My Dad was happy and at his best when Jim was home, too. We all were.

The summer of 1972 my brother had a "far out" garage band. They played "Jumping Jack Flash" and "In A Godda Da Vida." The kids from town would flock to our house to listen while my parents, glued to the Watergate hearings on tv, sat just inside in their recliners. I pretended to be Tracy Partridge and played tambourine in the background. Even though there was something awfully serious going on in the world that all the grownups seemed to be worried about, I felt safe, happy and most importantly, extra special, because my cool older brother's band was the hottest thing going in our little town that summer.

So it is no surprise that it was exciting for me to take my 13- and 15-year olds across the country this summer to visit their Cool Uncle Jim, now 60 years old.
To me, having my kids connect with my oldest sibling was like watching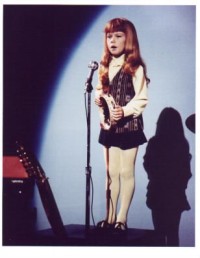 them unlock a sacred vault into my past and experience the same exhilaration I did as a kid when Jim brought "funny" back to town. They loved him and who wouldn't??